klantenservicesoftware
klantenservice software
Je klanten zijn het belangrijkste onderdeel van je bedrijf. Klantenservicesoftware stelt je in staat om betere klantrelaties op te bouwen.
De volledige handleiding voor de beste klantsupportsoftware
Customer support software is the backbone of a great customer experience. But knowing which tools are right for your business, vetting providers, and getting the system implemented is no easy task.
To help you with that, we'll start with the basics of customer support software: what it is, the different types, and how it benefits your team. Then we'll get into best practices, the latest trends, and an overview of the best available tools. To wrap up, we'll walk through how to think about choosing the ideal customer support software for your organization.
Feel free to skip around by clicking through the table of contents below:
Wat is klantenservicesoftware?
Customer service software is any program that helps an organization provide assistance and/or advice to the people who buy or use their products.
The most basic role of customer service software is to provide a centralized system, known as a ticketing system, where service agents can track, prioritize, manage, respond to, and resolve customer queries or employee requests en masse. Customer service software also includes any tool that helps inform or facilitate customer service delivery.
This includes tools such as knowledge bases, messaging apps, automation software, analytics dashboards, and more.
Customer service software is often integrated with a CRM to give agents access to contextual data, such as a customer's purchase history, from external sources. This equips a support team with context about who a customer is, where they're coming from, and why they're reaching out—regardless of channel.
How does customer service software work?
At its most basic level, customer service software enables businesses to improve customer service delivery by unifying customer conversations and information across channels and systems in a single location.
Why do small businesses need customer service apps?
Small businesses need customer service applications to help organize, prioritize, and consolidate customer service inquiries. When used well, customer service apps enable quicker, more reliable, and more personalized responses to customer inquiries. This helps small businesses set themselves apart with superior customer service.
De voordelen van klantenservicesoftware
Customer service platforms can benefit companies of all sizes and types—from multinational enterprises supporting millions of other businesses in multiple languages, to small consumer-facing businesses that need to answer customer questions quickly without hiring an army of support reps.
Here are some key benefits of customer service software:
Geeft klanttevredenheid en -loyaliteit een impuls

When service agents have the information and tools they need to provide fast, personalized responses to customers, they can deliver better service. With better service, your customers are less likely to churn and more likely to become loyal buyers.

And since 52 percent of customers go out of their way to buy from brands they're loyal to, more loyalty usually means more sales. In this way, by facilitating improved service, customer service software can help your business grow with more satisfied, loyal customers.

Streamlines self-service

63 percent of customers always or almost always start with a search of a company's online resources when they have an issue. For enterprises, the challenge is managing a system for creating and updating those resources in real-time.

Customer service platforms enable your business to streamline knowledge base creation and management, saving agents time and providing customers with the resources they need. Plus, you can track how your customers are using your knowledge base to help inform further self-service improvements.

Bevordert een gestroomlijnde agentervaring

Customer service tools help agents access and use the customer information they need, when and where they need it. These tools also facilitate improved internal collaboration with shared inboxes and greater efficiency with streamlined workflows. The result is agents that are more prepared and motivated to provide better customer care. All that leads to greater productivity, saving the business time and resources.

Biedt bedrijven de mogelijkheid om slimmer te schalen

At a certain point, rudimentary tools like spreadsheets aren't enough to facilitate transparent internal and external customer service communications. But without effective collaboration among your service team, maintaining high levels of customer satisfaction as your business grows is nearly impossible.

Customer service applications give a business the power of customer-centric agility. In other words, they enable a company to grow and scale based on the needs of its customers.

Enables smaller teams to do more, faster

The speed of 'first reply' is one of the biggest influencers on customer satisfaction. But with so many service channels and the growing demand for personalization, service agents need customer service apps to help them respond to and resolve issues faster.

And the data backs this up: in the Zendesk Benchmark Guide for Enterprise, the top-performing service teams have almost double the ticket-to-agent ratio of other companies. The way they perform well with fewer agents is by using customer service software that enables each agent to do more.
De soorten klantenservicesoftware
Klantenservice kan intern (voor het ondersteunen van medewerkers in een bedrijf) of extern (voor het ondersteunen van de mensen die de producten of diensten kopen) zijn.
Elk klantenservicekanaal wordt vaak als ander type klantenservice beschouwd. Lees hieronder over de belangrijkste soorten klantenservice die je dient te kennen:
Live chat
Live chatsoftware stelt agenten in staat problemen van klanten in realtime op te lossen vanaf de plek waar ze al zijn, zoals op de startpagina van je website of in je mobiele app.
This gives a business the ability to be proactive and get ahead of an issue before it happens or even occurs. For instance, an e-commerce company might offer live chat on its checkout page to answer frequently asked questions before a customer abandons their cart.
Live chat also enables a business to offer support around the clock. While your agents are busy being humans, chatbots can handle customer requests for them.
Telefonische support
Een telefoongesprek blijft een effectieve manier voor het oplossen van het probleem van een klant, vooral als het om problemen gaat waarbij grote bedragen op het spel staan. Soms is het zelfs doeltreffender dan lange e-mailgesprekken of chatten in realtime, omdat een telefoongesprek persoonlijke elementen heeft, zoals de menselijke stem.
Dankzij functies als oproepregistratie, slimme interne routering, toegang tot de volledige klantgeschiedenis en automatische ticketaanmaak, stelt callcentersoftware klantenservicevertegenwoordigers in staat om strategischer werken.
E-mail
E-mail is de basis van elke klantensupport. Net als de telefoon is het volledig ingebakken en blijft het een favoriet kanaal onder oudere generaties.
E-mail wordt vaak zowel voor interne als externe support gebruikt. Zo kan een HR-, salarisadministratie- of IT-team bijvoorbeeld gebruikmaken van e-mail om vragen van full- en parttime medewerkers te beantwoorden.
Kennisbank
With a knowledge base, community forum, or customer portal, support teams can empower customers to self-serve. In fact, 81% of customers would rather figure out an issue on their own.
Maar dit is alleen mogelijk als supportteams over de tools beschikken die het creëren en onderhouden van kennis gemakkelijk maken. AI kan bijvoorbeeld waarschuwen als inhoud is verouderd of als er een nieuw artikelonderwerp nodig is. Het kan ook de collectieve kennis van agenten gebruiken voor het automatiseren van oplossingen waar weinig interactie voor nodig is.
Messaging-apps
De snelle toename van messagingkanalen, zoals WhatsApp, Apple Business Chat en Facebook Messenger, heeft de manier waarop mensen contact met elkaar zoeken veranderd.
That convenience factor has made its way to customer service as well. Customer service software apps allow customers to get in touch over the same messaging channels they use to communicate with friends and family.
Het voordeel van het gebruik van klantenservicesoftware om via messagingkanalen te communiceren, is de mogelijkheid om gesprekken en context in een gecentraliseerde locatie te houden. Als het oplossen van het probleem van een klant begint met een bericht en er vervolgens een telefoongesprek nodig is, wordt al die informatie in hetzelfde supportticket geregistreerd.
Best practices for customer service apps & software
Customer service software promises exciting capabilities, but those promises break if the people using that software don't follow best practices. Here are four best practices that'll help your team exceed expectations:
Meet customers on their own terms
Customers don't care about terms like omnichannel. But companies should.
The experience that omnichannel customer service can provide is a massive differentiator and a key tool for cultivating loyalty. What omnichannel means is offering all the channels that customers expect for communicating with your company — email, chat, phone, text, and social media.
This creates trust and comfort for the customer because they can communicate with you in the same way they already talk to friends and family.
Make personalization possible
The information you need to figure out what your customers want from your products and services is probably available to you, and possibly already pouring in. This data can feed engagement strategies with insights on when, where, and how to engage customers.
And it works: Zendesk findings show companies that leverage the most data see 36 percent faster resolutions and a 79 percent reduction in wait time while solving four times the customer requests.
If you don't know where to start, a good first step is to use an open and modern CRM platform so you can link data sources to create and offer personalized service based on real customer preferences.
Invest in effective collaboration
There's a reason that in this list of companies with the worst customer service ratings, giant telecoms, banks, and airlines dominate the top ranks. Giant companies are complex, and it's a lot harder to find the right person to talk to when there are thousands of employees—for both agents and customers.
This is what makes it so important to give your teams easy ways to reach out to other departments, so you can streamline communication and internal workflows, giving agents the context they need, when they need it to provide more responsive support.
Current trends for customer service platforms
When you're thinking about an investment in a customer service platform, whatever tool you choose will evolve and change. Don't worry, that's a good thing. You want tools that can evolve as your business, and the world, change. But that also means you need to keep an eye on how the world of customer service management is changing.
Here are a few of the top customer service trends you'll want to keep in mind as you use or consider using, new software.
Data-driven personalization as the price of entry
The idea of tapping into data from across the organization to facilitate personalized, contextually relevant customer service is not particularly new. What is new is the greater accessibility of tools that enable data-driven personalization and a broader realization among executives of the value of customer data.
In fact, the most recent KPMG CIO Survey showed that when it comes to attracting customers, 91 percent of CIOs know that how they handle and use customer data is becoming equally important as a company's products and services offerings.
In the past, a truly data-driven customer experience was too resource-intensive for most companies. But with more powerful, affordable software, tapping into data to serve your customers better isn't so much a differentiator. It's more like the price of entry.
Customer service teams are focusing on efficiency
Well before COVID-19, hiring managers had stiff competition for quality agents. So much so that most teams were expecting more growth in customer requests than in headcount. The pandemic poured lighter fluid on that fire, creating even more resource constraints. The result has been a greater focus on using the right culture, solutions, and data visibility to improve efficiency.
Still, only around half of customer service agents say they have adequate tools for measuring and reporting on the metrics that are most important to their support team. And almost 40% are neutral.
This gap presents an opportunity for CIOs and other IT leaders to again prioritize customer experience—the sum of every touchpoint each customer encounters with the business—before approving another redundant or risky point product.
Blending customer service and customer success
Traditional customer service is reactive. Customers have a problem, they reach out to an organization, and they're routed to an agent or resource that can help them solve their issue. But the world's fastest-growing companies are delivering customer service more proactively.
Rather than reacting, these organizations tailor their service to ensure their customers reach their goals.
Some enterprises are even building dedicated customer success teams as a complement(or replacement) for their service teams. While traditional customer service is far from obsolete, it's clear that executives, managers, and agents are rethinking how they define customer service.
De 15 beste tools voor klantenservicesoftware om de klantervaring te verbeteren
Zendesk




Sprout Social




Hootsuite




MailChimp




Apple Business Chat




Facebook




SurveyMonkey




Slack



Recurly




NICE inContact CXone




EZOfficeInventory




Boss Solutions Suite




Jira Service Desk




LiveAgent




Freshdesk



Klanten verwachten met bedrijven te kunnen communiceren via hun voorkeurskanalen. Deze kanalen vertegenwoordigen nu een breed scala aan technologieën dat efficiënt moet worden bemand en aan je bestaande technologieën moet worden gekoppeld. Hieronder lees je over enkele klantenservicetools die een bedrijf helpen uitstekende klantenservice te leveren.
Zendesk's klantenservicesoftware stelt bedrijven in staat moeiteloze klantervaringen te creëren. De gesprekken lopen naadloos van kanaal naar kanaal, wat de productiviteit en de algemene tevredenheid verbetert.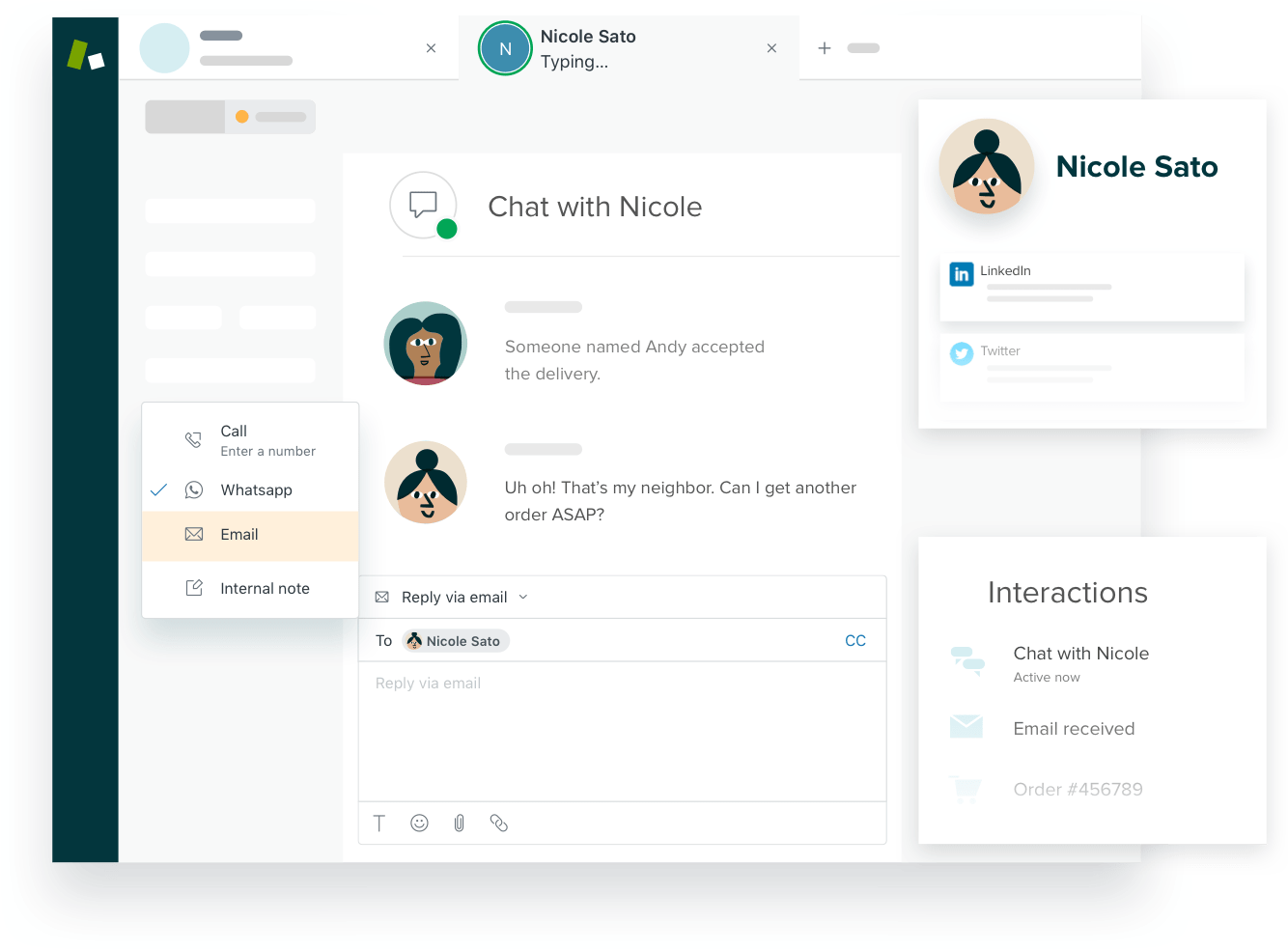 Werkruimte voor agenten in Zendesk Suite is een functie opgenomen waarmee agenten over alle tools beschikken die ze nodig hebben om vanuit één enkele interface via elk kanaal met elkaar en andere teams te werken en snel gepersonaliseerde antwoorden te geven.
Zendesk's klantenservicesoftware is snel geïmplementeerd, gebruiksvriendelijk en schaalt met de behoeften van bedrijven van elke omvang:
Zendesk voor grote ondernemingen
Grote ondernemingen hebben de juiste balans nodig tussen eenvoud en verfijning om grote teams en technologie af te stemmen op wat het meeste telt: hun klant. Zendesk rust een grote onderneming uit met de tools die ze nodig heeft om op de voorkeurskanalen van klanten aan de behoeften van een divers klantenbestand te voldoen en tegelijkertijd een persoonlijke ervaring te bieden.
Bij een grote onderneming met meerdere vestigingen zul je ook meerdere agenten en hun uiteenlopende unieke vaardigheden moeten beheren. Zendesk biedt de flexibiliteit om met bepaalde tools je supportoplossing aan te passen, zoals geavanceerde workflowmogelijkheden en door kunstmatige intelligentie aangestuurde automatisering en selfservice, waardoor tickets bij de juiste agenten terechtkomen en agenten over de kennis beschikken die ze nodig hebben om elk probleem op te lossen.
Zendesk also seamlessly integrates with other tools, data, and communications across all departments to ensure smooth customer interactions and fewer miscommunications within complex operations.
Kom meer te weten over Zendesk's klantenservicesoftware voor grote bedrijven.
Zendesk voor mkb's
Zendesk gives small and mighty teams the gift of efficiency. It's powerful yet easy-to-use and designed to help your customer service team work better together, making the most of their time and energy. Plus, it's easy to customize with the tools you already use so you can build on what you have.
Door in Zendesk's gecentraliseerde werkruimte te werken, beschik je over alle tools die je nodig hebt om vragen van klanten te volgen en de informatie die ze nodig hebben te delen, precies wanneer ze die nodig hebben. En dankzij Zendesk's automatiseringen en dynamische werkruimten die door AI worden aangestuurd, werkt je team slimmer en sneller en bereikt het meer klanten.
Kom meer te weten over Zendesk's klantenservicesoftware voor mkb's.
Zendesk voor starters
Wanneer je je klanten de ervaring geeft die ze verwachten, win je hun vertrouwen en loyaliteit. Dankzij Zendesk's omnichannel supportoplossing kunnen startups aanwezig zijn waar hun klanten zich bevinden. Integreer supportkanalen zoals e-mail, chat en telefoon op één plaats en bespaar tijd door selfservice-opties aan te bieden.
The best part? Zendesk for Startups provides a free 6-month credit—including access to tailored resources and a growing network and community of customer experience leaders.
Kom meer te weten over Zendesk's klantenservicesoftware voor startups.
Features of Zendesk's customer service software
Ticketroutering
Live chatsoftware
Native integrations
Kennisbank
API
Tracking and reporting
Self-service portal
Communityforums
Automation
With the ever-growing adoption of social media for communication, customer service software that helps support teams deliver cohesive social support experiences is immensely valuable. Through its combination of sales, support, marketing, social media monitoring, and engagement features, Sprout Social helps facilitate conversations across all social media channels.
And by connecting social media teams and support agents, Sprout Social eliminates disconnected or siloed communication and workflows.
Kenmerken
Rapportages en analyses
Automation
Tracking and reporting
Customer segmentation
Social media monitoring/management
Post scheduling
Kom meer te weten over Sprout Social's integratie met Zendesk.
Hootsuite helps teams engage with customers and schedule content across multiple social networks from one secure web-based dashboard. Its wide range of features and a large library of integrations make Hootsuite a solid overall tool for service operations.
Combined with Zendesk through a native integration, you can use Hootsuite to create, update, review, and edit tickets from social media. With Hootsuite and Zendesk, you remove the silos that often pop up between social and support teams. The result is better, more seamless customer interactions across all channels.
Kenmerken
Automation
Tracking and reporting
Customer segmentation
Social media monitoring/management
Post scheduling
Kom meer te weten over de Zendesk-app voor Hootsuite.
MailChimp enables businesses to create, send, and track email newsletters, signup forms, and event invitations. Teams can personalize emails with targeted customer segments when integrating a customer support system like Zendesk Support.
But even more than that, for a smaller business, MailChimp can double as an all-in-one marketing platform. Though you'll need one of their more expensive plans, you can use MailChimp to create landing pages and ad campaigns, track performance, and automate emails.
Kenmerken
Tracking and reporting
Contact management
Landing page and email design tools
Automation
Social media monitoring
Live chat
Kom meer te weten over het koppelen van Zendesk Support en Mailchimp.
Met Apple Business Chat kunnen klanten antwoorden op hun vragen krijgen, afspraken plannen, problemen oplossen en aankopen doen, zonder ooit de messenger te verlaten.
Om een consistente en naadloze gesprekservaring via aangepaste messagingkanalen zoals Apple Business Chat te garanderen, heeft een bedrijf een messagingpartner nodig, zoals Sunshine Conversations.
Kenmerken
Native integrations
Booking
Payments
Image/audio/video file support
API
Kom meer te weten over het integreren van Apple Business Chat in Zendesk Support.
6. Facebook
Facebook Messenger en WhatsApp stellen klanten overal ter wereld in staat om snelle en handige messagingsupport op hun telefoon te krijgen. Met een CRM-platform als Sunshine Conversations kunnen klanten van alles doen, van het wijzigen van een hotelreservering tot het betalen van een rekening en het vinden van de perfecte lippenstiftkleur — en dat alles in de discussie.
Kenmerken
Native integrations
Booking
Payments
Image/audio/video file support
API
Kom meer te weten over het gebruik van populaire messagingkanalen zoals WhatsApp en Facebook Messenger met Zendesk.
SurveyMonkey is a customer service tool that provides businesses with templates for a plethora of customer surveys to glean insight into things like product feedback and CSAT. And with SurveyMonkey's extensive library of integrations, you can easily work this tool into your existing workflow.
In other words, SurveyMonkey enables you to gather feedback from customers or employees with minimal disruption to you and them.
Kenmerken
Live results tracking
Polling
Tracking and reporting
Image/audio/video file support
Email distribution
Native integrations
API
Kom meer te weten over de integratie van SurveyMonkey-app in Zendesk.
Dankzij Slack kunnen interne klanten naadloze support van IT- en HR-afdelingen krijgen via het hetzelfde kanaal dat ze gebruiken om met hun teamleden te communiceren. In combinatie met een door AI mogelijk gemaakte bot, zoals Zendesk's Answer Bot, kunnen medewerkers via Slack zichzelf op schaal bedienen.
Wanneer Slack wordt geïntegreerd in een oplossing voor klantenservicesoftware, kunnen agenten ook beter met elkaar te communiceren bij het oplossen van tickets. Dit garandeert snellere en een beter gestroomlijnde samenwerking.
Kenmerken
Live chat
Videoconferenties
Messaging
Native integrations
API
Communityforums
Surveys
Kom meer te weten over Slack voor Zendesk Support.
Recurly biedt een veelzijdig beheerplatform voor abonnementsfacturering die de volledige levenscyclus van abonnees kan verwerken. Als het wordt geïntegreerd met een supportsysteem zoals Zendesk Support, hoeven agenten niet tussen afzonderlijke tabbladen of systemen te schakelen om de abonnementsgegevens van een klant te bekijken of wijzigen.
Plus, Recurly is powerful in its own right, enabling your team to easily manage subscriptions, offer discount codes, set up recurring payments, and more.
Kenmerken
Native integrations
API
Self-service portal
Automation
Subscription management
Multiple payment options
Kom meer te weten over Recurly voor Zendesk.
NICE inContact CXone Agent consolidates customer context and contact center controls into a single interface for more efficient agents and better customer experiences. What really sets NICE inContact apart is its breadth of features for more sophisticated, larger service operations.
In addition to voice solutions, ticketing routing, and other standard customer service capabilities, NICE also provides valuable workforce and quality management tools that enable your service managers to continuously improve their team's performance.
Kenmerken
Ticketroutering
Workforce management
Customer surveys
Live chatsoftware
Native integrations
Kennisbank
API
Tracking and reporting
Self-service portal
Automation
Kom meer te weten over NICE inContact CXone Agent voor Zendesk.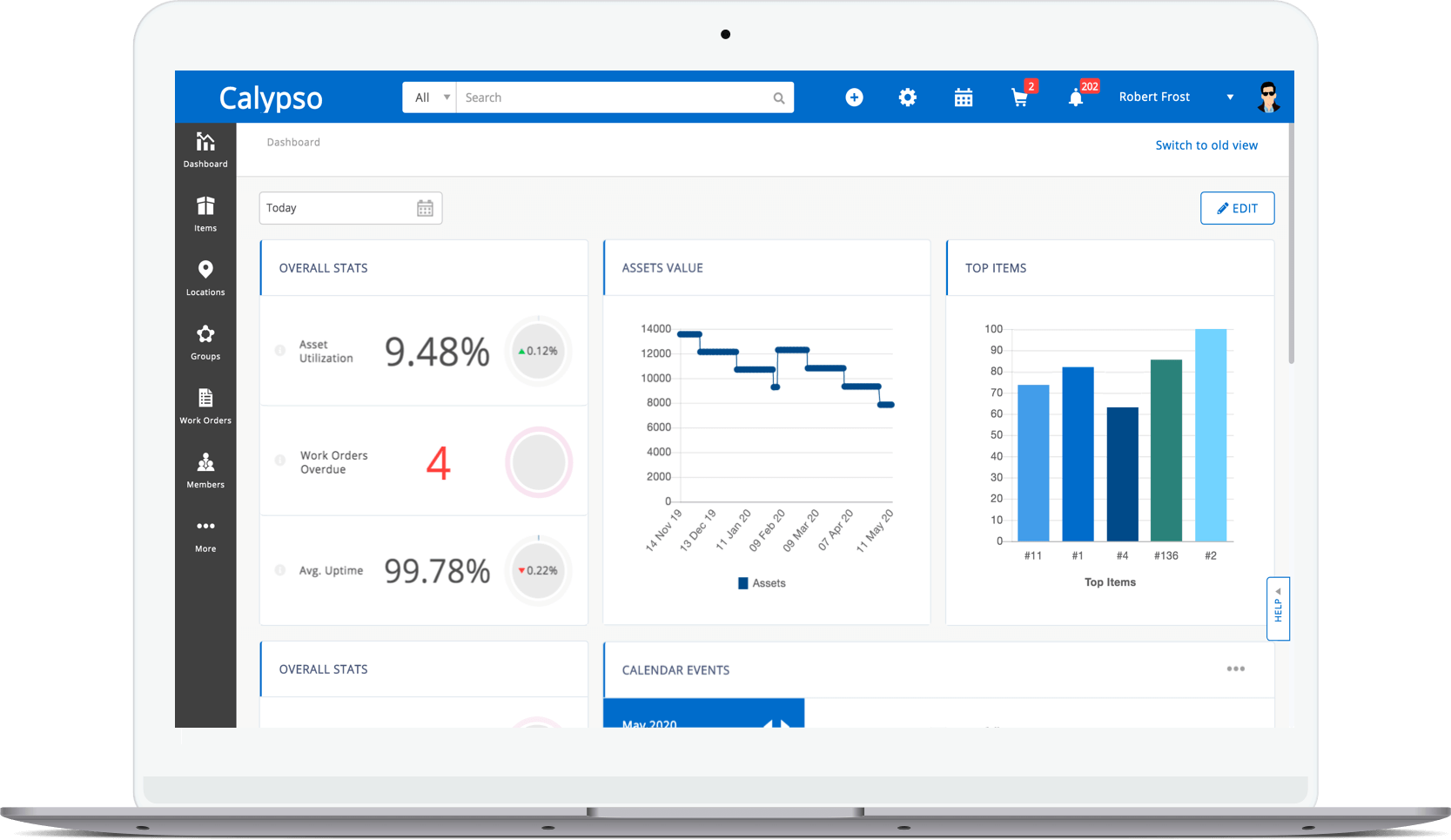 EZOfficeInventory stelt organisaties overal ter wereld in staat om tickets en incidenten met betrekking tot apparaten, assets en voorraad te beheren.
Typische gebruikscases zijn bijvoorbeeld een medewerker die een ticket over zijn kapotte computer stuurt of een persoon in het veld die hulp nodig heeft bij het gebruik van een boorapparaat. EZOfficeInventory beheert de details van de assets, terwijl een supporttool zoals Zendesk de ticketworkflow voor zijn rekening neemt.
Kenmerken
Native integrations
Kennisbank
Asset tracking
Barcode scanning
Maintenance scheduling
API
Tracking and reporting
Kom meer te weten over de integratie van de EZOfficeInventory-app in Zendesk.
Boss Solutions Suite provides businesses with a fully integrated ITIL-based help desk software and IT asset management solution available on-premise or on the cloud. Their customers include public, education, and healthcare institutions.
In addition to ticket routing, knowledge management, and self-service, Boss Solutions provides asset, incident, and change management capabilities.
Kenmerken
Ticketroutering
Native integrations
Kennisbank
API
Tracking and reporting
Self-service portal
Automation
Jira Service Management empowers IT teams with a modern service desk that has everything they need out-of-the-box, including ITIL-certified processes. Jira is developed by Atlassian and it bills itself as the solution to silos between developers, operations, and IT.
All that said, non-IT customer service professionals may find that Jira's feature set is excessive for their needs. If you're not sure, go ahead and take JIRA for a spin; they offer 7-day free trials and they have a free plan that can give you a feel for the software.
Kenmerken
Ticketroutering
Live chatsoftware
Native integrations
Kennisbank
API
Tracking and reporting
Self-service portal
Automation
Learn more about Jira for Zendesk.
If your service team spends a lot of time serving customers with live chat, LiveAgent is definitely a tool to consider. LiveAgent improves live chat service delivery with features like real-time typing view, website monitoring for chat engagement, and proactive chat invitations based on the active agent availability.
LiveAgent is an especially solid solution for smaller service teams that use WordPress. And its large library of native integrations allows your team to seamlessly work it into their existing workflows. Plus it has native integrations for many of the most popular apps that support teams use.
Kenmerken
Ticketroutering
Live chatsoftware
Native integrations
Kennisbank
API
Tracking and reporting
Self-service portal
Communityforums
Automation
Freshdesk helps customer service teams streamline collaboration and automation with its intuitive interface and affordable price. In their more expensive plans, Freskdesh offers all the key features you'd expect in customer support management software including team dashboards, social signals, ticket routing, and chatbots.
Another nice perk is that through Freshworks Academy, you can offload some of the burden of training your agents on the system.
Kenmerken
Ticketroutering
Live chatsoftware
Native integrations
Kennisbank
API
Tracking and reporting
Self-service portal
Communityforums
Automation
A summary of the top customer service software solutions
Here's how our top 15 picks for customer service software stack up against one another at a glance:
| klantenservicesoftware | Conversation Routing | Live chatsoftware | Native Integrations | Ticket Routing | API |
| --- | --- | --- | --- | --- | --- |
| Zendesk | ✓ | ✓ | ✓ | ✓ | ✓ |
| Sprout Social | ✓ | X | ✓ | X | ✓ |
| Hootsuite | ✓ | X | ✓ | X | ✓ |
| MailChimp | X | X | ✓ | X | ✓ |
| Apple Business Chat | X | ✓ | ✓ | X | ✓ |
| Facebook | X | ✓ | ✓ | X | ✓ |
| SurveyMonkey | X | X | ✓ | X | ✓ |
| Slack | X | ✓ | ✓ | X | ✓ |
| Recurly | X | X | ✓ | X | ✓ |
| NICE inContact CXone | ✓ | ✓ | ✓ | ✓ | ✓ |
| EZOffice Inventory | X | X | ✓ | ✓ | ✓ |
| Boss Solutions Suite | ✓ | X | X | ✓ | ✓ |
| Jira Service Management | ✓ | X | ✓ | ✓ | ✓ |
| LiveAgent | ✓ | ✓ | ✓ | ✓ | ✓ |
| Freshdesk | ✓ | ✓ | ✓ | ✓ | ✓ |
Hoe je de beste klantenservicebeheersoftware voor jouw bedrijf kiest
Your customer service software is key to your support team's day-to-day operations. So finding the right mix of tools is a big deal.
To help you think about what tools might be the best for your team, read through the six questions listed below:
Is customer service software easy to implement?
Customer service software's ease of implementation depends on many individual factors. How easy one system is to implement versus another depends on your desired integrations, workflows, customization needs, and other factors.
That said, web-based customer service tools are generally easier to implement than desktop-based software. Still, in the vast majority of cases, businesses should be able to start servicing customers with software that fits into their existing infrastructure within a few days.
Does the customer service app provide agents with collaboration tools?
The best customer service software app equips agents with collaboration tools and streamlines workflows so they can work better together and solve customer questions efficiently.
Met op vaardigheden gebaseerde routering krijgen agenten bijvoorbeeld vragen op basis van hun expertise, zoals een productgebied of taal. Wanneer klantenservicesoftware met andere interne tools integreert, zoals e-mail en Slack, kunnen agenten de beproefde werkwijzen met verschillende afdelingen delen.
Will customer service software allow you to seamlessly scale?
Naarmate een bedrijf groeit, moet de klantenservice ook groeien. Supportsoftware dient opties te hebben die geschikt zijn voor een groeiend bedrijf, zoals mogelijkheden voor het naadloos toevoegen of verwijderen van kanalen en het integreren van nieuwe systemen en software.
Does customer service software come with analytics and reporting?
Dankzij klantenanalyses krijgt een bedrijf beter inzicht in de vraag of doelen worden bereikt en gekozen strategieën werken. Rapporten zorgen ervoor dat alle belanghebbenden zien wat hij/zij moet zien.
Is customer service software customizable to your business' needs?
De ideale klantenserviceprovider kun je configureren zodat die elk workflow kan ondersteunen. De provider is krachtig genoeg om zelfs de meest complexe bedrijfsactiviteiten aan te kunnen, maar flexibel genoeg om met het groeitempo van het bedrijf mee te groeien. De software dient ook met apps en integraties te worden geleverd waarmee agenten hun werkruimte kunnen aanpassen.
Try Zendesk's customer service software for free
Seamless communication, personalized to your customers and centralized for your agents, doesn't have to be a distant dream for you and your team. Zendesk's customer service system combines it all—integrated customer data, knowledge base management, ticketing, live chat, and much more, to elevate your customer reach and bridge the gaps within your business.
Profiteer van meer kennis
Blijf de wereld van klantenservicesoftware en wereldwijde klantensupport verkennen.