A guide to the best forum software
Your customers, employees, and people in general love to form in-person and online communities to discuss the topics they're most interested in. That's why so many consumers turn to community forums when they need information or support from their favorite brands.
On top of that, forums offer organizations a unique opportunity to simultaneously provide self-service, collect feedback, and build brand loyalty. And forum software is what makes it all possible.
What is forum software?
Forum software is tech that enables you to create text-based threads where people can post questions, discuss issues, offer solutions, and make comments. Typically, discussion forum software also enables organizations to moderate conversations, rate users, and collect user feedback.
Why is the forum software important?
Forum software is important because it offers a unique opportunity for organizations to provide self-service options for customers. Also, providing a forum where users can post their questions, comments, and ideas can help inform product roadmap decisions. But it's not just for customers. Many companies use community forum software to create discussion boards to solicit internal product feedback and for employees to ask and answer questions.
A comparison chart for the top 13 forum software for 2022
Software

Starting price
(/user/month)

Free trial/plan

Key Features

Zendesk

$49

Featured and pinned posts
Unified search for knowledge base and forum
Ticket escalation
Content approval moderation
Following, voting, and social sharing
Similar posts suggestions
Spam management
Unified community dashboard

Vanilla Forums

Not available

No

Discussions and Q&A
User groups
Ranks, badges, and leaderboard
Advanced analytics
Paid knowledge base add-on

Khoros Communities

Not available

No

Real-time analytics
Advanced moderation tools
Slack and Zoom integrations
Community syndication
Gamification

Xenforo

$60/month

Lifetime support
50GB data storage
400k monthly page views
Custom URL

vBulletin

$14.99/month

No

Automatic daily backups
User group based permissions
Multi-language support
Customer profile fields
Built-in themes

Joomla

Free

Custom layouts
SEO tools
Open source
Access control levels

Discourse

$100/month

100k monthly page views
Unlimited members
5 staff users
Global CDN

Wix

$45

Q&A
Private categories
Subscription plans
Website editor
Forum add-on

inSided

Not available

No

Gamification
Events & Registrations
In-App embeddable
Knowledge Base

WordPress

$15 per month

Premium themes included
50GB storage
Automated website backups
Advanced SEO tools

phpBB

Free

Responsive design
Moderation tools
Unread message tracking
Anti-spam tools
Password hashing

Drupal

Free

Free plan

Bug reports
Multi-language translations
Threaded discussion boards
Comments
Multiple forums and subforums

Invision Community

$49/month

No

Unlimited posts
75GB media storage
Custom domain
Fully customizable
File sharing
An overview of the best 13 forum software
Your customers and employees want to be heard. Zendesk gives them the microphone and the space to connect through an online community. With Zendesk's customer and employee forum software, your users get the chance to help each other, inspire one another, and boost overall customer and employee engagement. . And members of your support team can jump in and help out, or appoint community managers to moderate and keep discussions on topic.
A community like that is a valuable form of feedback for your organization to learn which improvements your customers want to see most. Plus, you can layer on Zendesk's customer service and/or employee experience solutions to truly maximize the value of your online community..
Build a community in minutes
Whether online or in-person, a community should be an inviting, useful, and fun place to be. Zendesk community software gives you full control of forum design, so you can make it feel like home. And thanks to its ease of use, Zendesk's community forum software allows you to build a discussion board in minutes. Your company can have separate or combined branded online spaces where all your customers and employees can interact and collaborate, making them feel connected and empowered.
And in that space, you can guide new customers and empower longtime users with advanced community management tools.
Streamline community content for max impact
Zendesk's online forum software uses AI to automatically remove duplicate threads and repeated questions. This allows you to decrease noise in your community (with minimal effort) and helps customers find existing answers to their questions more easily. Plus, users can sort and follow posts to stay informed with the latest updates. This ability to systematically filter out the noise and keep discussions on track makes Zendesk very effective for medium-sized to large companies.
Zendesk's discussion forum software is available as a free trial or free with a qualified Zendesk plan.
Pricing Plans:
Suite Team: $49 user/month
Suite Growth: $79 user/month
Suite Professional: $99 user/month
Suite Enterprise: $150 user/month
Free trial: 14 days
Features of Zendesk
Unified agent workspace
Interaction history
Custom and group views
Rules-based triggers
SEO tools
Article import
Bulk actions
Unified staff management
50 MB/agent
As the name implies, Vanilla Forums is known for its simple and intuitive interface. Its simplicity makes it a great tool for building and scaling an online community of engaged users. And it's a common online forum software of choice for companies with large or segmented communities because it supports multi-forum management. Also, to encourage frequent, meaningful contributions and good conduct, Vanilla Forums uses gamification and reputation-scoring features.
If you have any trouble while using the software, you can rely on your dedicated Vanilla Forums account manager to provide support.
One disadvantage of Vanilla Forumas is its high price tag relative to most small business' budgets. That said, the price point does fall within the ballpark for enterprise businesses. Vanilla Forums doesn't publish its pricing anymore but it used to start at $689. If they have the resources to adopt open-source software, small and medium-sized businesses could opt for Vanilla Forums' free open-source software.
Pricing not available
Free trial: Not available
Features of Vanilla Forums
Discussions and Q&A
User groups
CSS hooks
25 supported languages
Ranks, badges, and leaderboard
Advanced analytics
Paid knowledge base add-on
Product, marketing, and CX integrations
Dedicated customer success manager
Khoros Communities provides a self-service space for customers and employees that's conducive to users asking questions, sharing thoughts, discussing issues, and receiving answers from other users and experts.
Designed to support the needs of enterprises out of the box and help small businesses scale, Khoros offers configurable permissions and supports employee and customer multi-forum management, as well as different languages. With Khoros, your company can use the online community features, such as a knowledge base and blog, to provide helpful articles and resources. You can even create a feed of community content with the Khoros community syndication feature.
All this said, for non-programmers, this online forum software does have so you may need to work with a developer to maximize your configuration.
Pricing not available
Free trial: Not available
Features of Khoros Communities
Self-service knowledge hub
Real-time analytics
Advanced moderation tools
Slack and Zoom integrations
Community syndication
Gamification
Spam management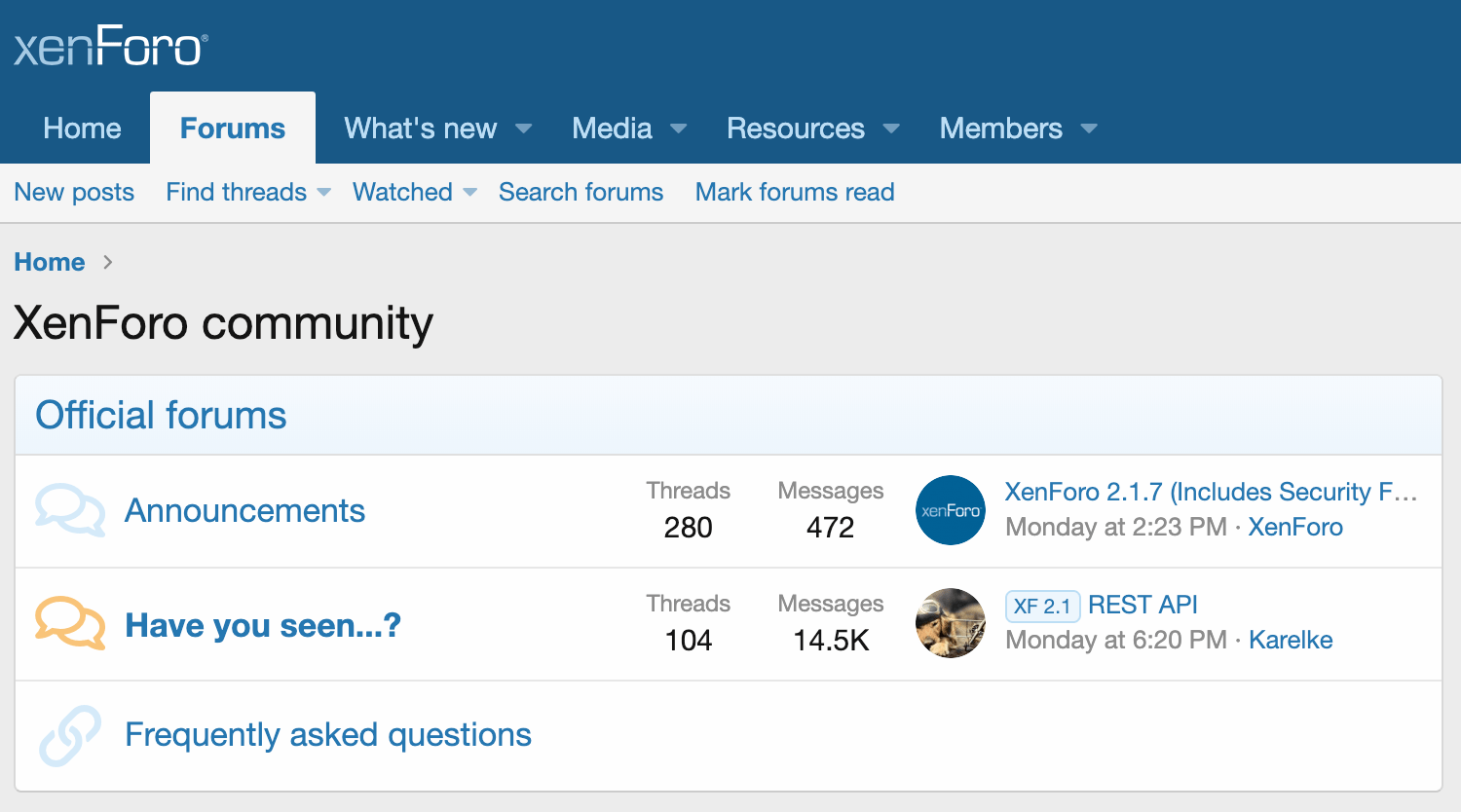 Xenforo is built with PHP to make it easy for people to share and discuss content. While Xenforo can be used for other things, the primary use case for Xenforo is creating forums. Using this discussion forum software, you can create Q&A and feedback threads, organize your forum with category trees, set permissions and controls, and bookmark content for later.
In addition to the robust set of capabilities, Xenforo provides for organizing forum content, it also has an intuitive WYSIWYG text editor that supports file attachment, link previews, and basic image editing. This allows you and other users to create and share content easily and quickly with the community.
Pricing Plans
Starter: $60/month
Standard: $100/month
Business: $250/month
Free trial: 7 days
Features of Xenforo
Content bookmarking
Moderation tools
SSL security
Lifetime support
Authoring tools
Forum categories
Direct messaging
vBulletin Cloud is an early version of discussion forum software that's written in the programming language PHP. Before social media exploded onto the scene, organizations used the threaded conversations of vBulletin to host discussions for employees and/or customers looking for answers to their questions. The customer and employee forum software is suited for newer forums with low traffic volumes as well as large, well-established, and high-traffic forums.
If you don't have a technical background, you can easily do a basic setup of vBulletin Cloud. But if you'd like to implement more advanced customizations, you may need coding skills. vBulletin features include the ability to send public and private messages on the vBulletin app, support HTML, attach images, and create posts. The software also enables you to moderate the forum by banning users, flagging posts, pruning content, and more.
Pricing Plans
Bronze: $14.99/month
Silver: $29.99/month
Gold: $59.99/month
Free trial: Not available
Features of vBulletin
Free phone, ticket, and forum support
Free domain
Custom email domains
Automatic daily backups
User group based permissions
Multi-language support
Customer profile fields
Built-in themes
Custom metadata
Free and open-source, Joomla is a content management system (CMS) designed to make it easy to publish web content. You can use Joomla for creating all kinds of traditional websites and online applications including a forum with basic and advanced features. Anyone can download Joomla from their website but you will need some technical capabilities to successfully deploy the software.
Unless you plan to build your own custom solution, you'll need one of Joomla's many forum plugins to add a forum to your site. One of the most popular forum plugins is Kunena which supports polls, topic rating, moderation actions, file attachments, and more. However, even adding the plugin will require technical expertise so keep that in mind when deciding on Joomla.
Pricing: All plans are free Features of Joomla

Thousands of third-party extensions
Free and paid templates
Custom layouts
SEO tools
Open source
Access control levels
Multilingual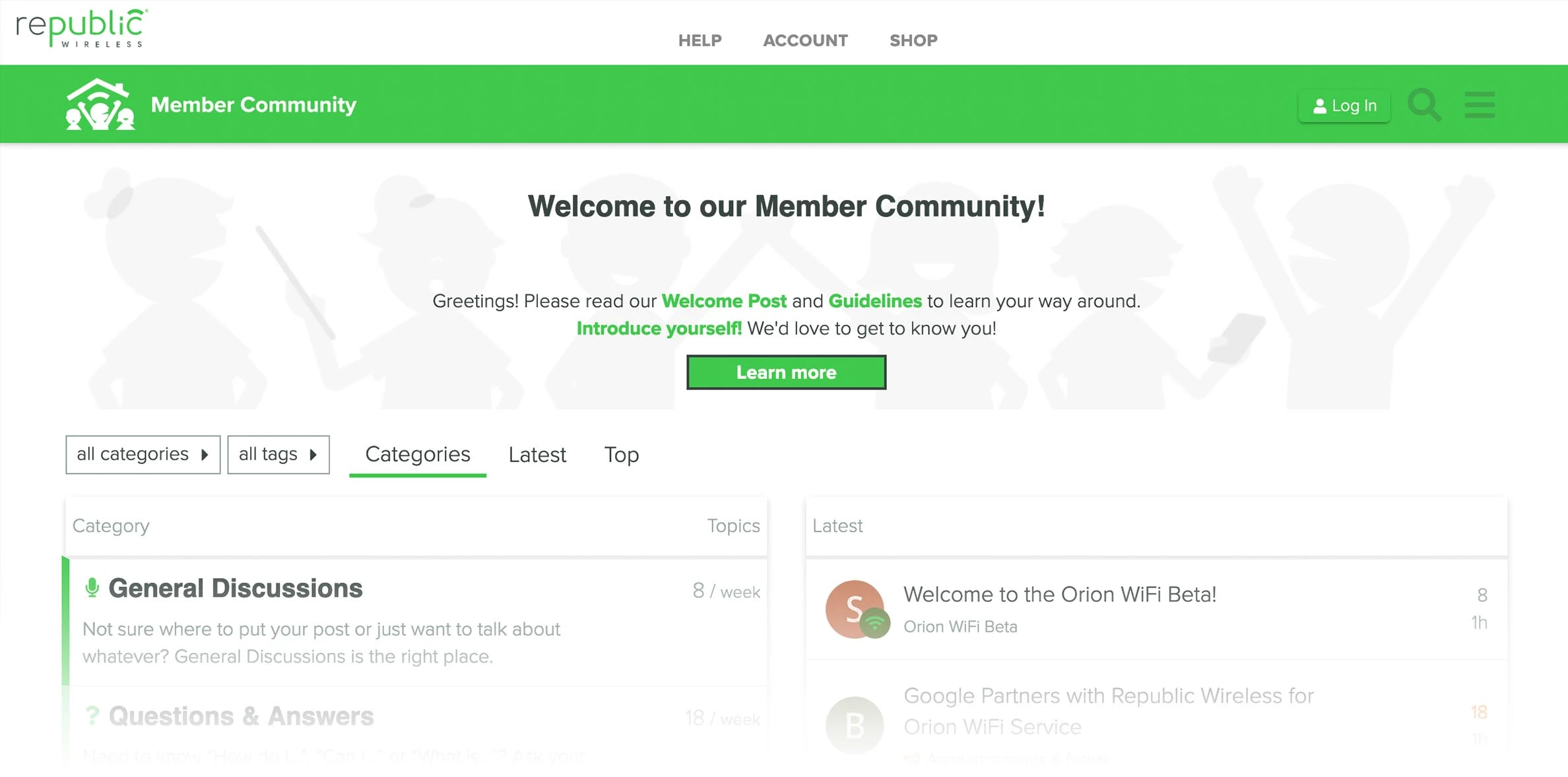 Discourse is forum software that's available as open-source, self-hosted or a hosted solution. Hosted solutions require a paid license but you can install the open-source Discourse on your own server for free, other than the cost of implementation.
Discourse is built to meet the needs of modern communities with distinctive features like Trust Levels which grants tiered access to users based on their ongoing community contributions. This feature helps brands regulate the behavior of new and existing users and reduces spam significantly.
Discourse's linear threads also make it easier for community members to follow conversations without losing context. Its flat forum model saves users from having to comb through long threads to find the information they need. You can create surveys in various languages, which makes it possible to build and communicate with communities in different countries. You can even translate the results using the advanced survey translation feature.
Pricing Plans
Standard: $100/month
Business: $300/month
Free trial: 14 days
Features of Discourse
Unlimited members
Global CDN
Mobile app
User surveys
Trust levels
Linear threads
Multi-language polls
Wix made a name for itself by enabling non-technical users to build professional websites with no coding ability necessary. Its forum software, Wix Forum, is similarly easy to use with drag-and-drop templates specially designed for community sites. Wix Forum isn't available as a standalone project but it comes with all Wix plans.
Unlike other forum software, Wix Forum appears similar to popular social media sites. For instance, users have personal profile pages, can follow each other, and like posts. These features provide the familiar feel of the social media apps that community members know and love, making Wix Forum highly engaging and intuitive for users.
Pricing Plans
Combo: $16/month
Unlimited: $22/month
Pro: $27/month
VIP: $45/month
Free trial: 14 days
Features of Wix
Custom domain
Free SSL
2GB storage
Q&A
Guest, member, and owner profiles
Private and public categories
Subscription plans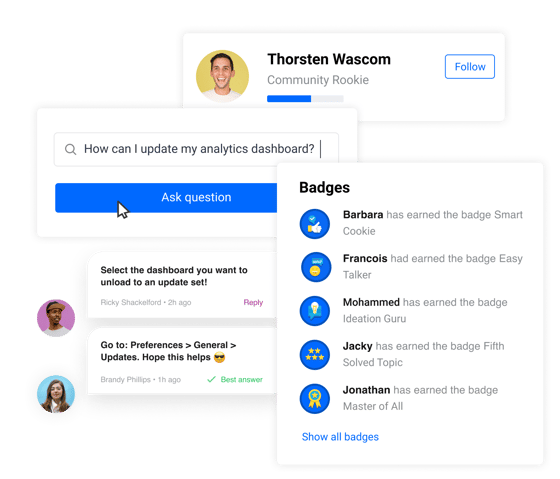 Like Zendesk, inSided is a customizable online community platform that integrates with customer support and/or service desk software to escalate tickets and offer one-on-one support for complex questions. The software mainly caters to Software as a Service (SaaS) businesses and helps them build engaged online communities.
The in-app embeddable feature enables you to meet customers where ever they are and answer their questions quickly. Using the widget in your app or website, employees or customers can search for answers without leaving the page. And beyond answering questions, you can use inSided to keep users up to date with product updates and solicit their feedback on product roadmaps.
Pricing not available
Free trial: Not available
Features of inSided
Community platform
3 Admin seats included
Q&A
Gamification (likes & badges)
Events & registrations
In-app embeddable
Knowledge base
Product updates
Tens of millions of brands throughout the world use WordPress as their content management system (CMS) and website builder used by tens of millions of brands across the Internet. So while WordPress isn't itself a forum software, you can use it to create communities with forum plugins like wpForo Forum and bbPress.
With bbPress, you can build and maintain multisite forums from a single WordPress dashboard. bbPress is free and open source and it has a simple, easy integration with WordPress. wpForo Forum is also free and comes with native SEO and anti-spam features. And you can extend on wpForo by purchasing additional add-ons. The one caveat is that these forum software plugins lack advanced functionality out of the box so may require add-ons to meet your needs.
Pricing Plans
WordPress Free: $0
WordPress Pro: $15/month
Free trial: Not available
Features of WordPress
Free custom domain name for one year
Premium themes included
50GB storage
Automated website backups
Advanced SEO tools
Short for PHP bulletin board, phpBB is an open-source, free forum software written in (you guessed it) PHP. phpBB helps you establish an online community through its forum software, though it doesn't have the advanced feature set you might find in many other solutions on this list. However, it does boast very strong security features to help you reduce spam and remove unruly users.
Despite its simplicity, phpBB does provide all the basics you need to effectively run a community. Users can post questions and respond to each other once they've created an account. And as the system admin, you can grant moderator status to any user you choose. Plus if you need to build on the basic functionality of phpBB out of the box, you can do so with a library of phpBB extensions.
The main drawback is that you may not find phpBB as user-friendly as other forum software. You'll need either a basic understanding of programming or help from a developer to set up and maintain it.
Pricing: phpBB is free to use
Features of phpBB
UTF-8 support
Responsive design
User preferences
Moderation tools
Unread message tracking
Private messages
Anti-spam tools
Password hashing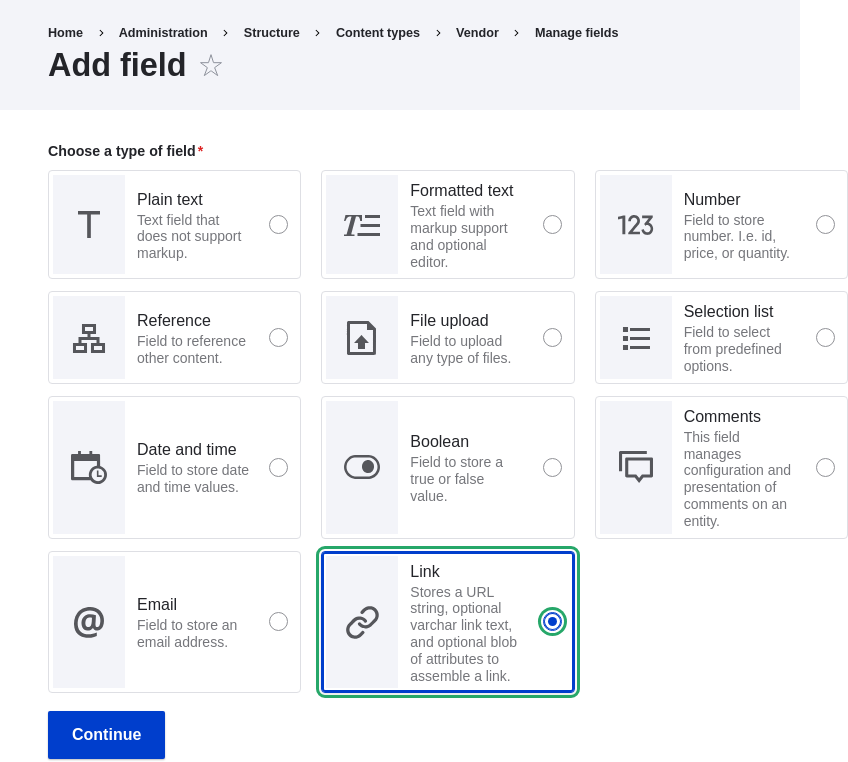 Like WordPress, Drupal is an open-source, completely free forum software that is, at its core, a web content management system (CMS). Though it's not quite as popular as WordPress, a large chunk of the internet's top websites use it to power their site's backend.
Drupal comes with a native forum module called the Core Forum Module that enables you to build threaded discussion boards where users can discuss issues with each other. Within the Core Forum Module you can also create multiple forums to house various types of conversations.
In short, Drupal's forum module gives you all the necessary organizational and management capabilities you'll need to run a basic forum. However, you'll need to extend the forum module with other modules or try the Advanced Forum module to do more sophisticated customizations.
Pricing: Free
Features of Drupal
Bug reports
Multi-language translations
Threaded discussion boards
Comments
Multiple forums and subforums
Invision Community is a unique forum software offering that can be used for creating a wide variety of discussion boards. With Invision, you can create generic or branded communities and discussion forums for fans, customers, or employees. Because of its flexibility, Invision is a great option for deploying internal forums for employees.
Among other things, Invision enables you to create a space for employees to share files, join clubs, and be rewarded with points and badges for their contributions. Invision also provides permissions configurability so you make the forum completely open to all or restricted to certain user groups. And if you decide to create a forum for customers too, you can use Invision's brand communities to engage with customers, provide product support, and more.
Pricing Plans
Starter: $49/month
Growth: $129/month
Pro: $279/month
Corporate $549/month
Free trial: Not available
Features of Invision Community
Unlimited posts
Traditional, grid, and fluid views
Activity streams
Private messages
Content tags
Custom domain
Fully customizable
File sharing
Email support
What are the benefits of using community forum software?
Incentivize employee and customer engagement with gamification
Whether it's an internal community for employees or external for customers, the hardest part of community building is creating engagement. Your customers and employees are busy and they may not think it's worth their time to ask or answer a question on your community forum. They need a reason to engage, and forum software provides that reason.
Through gamification features, like badges, user scores, leader boards, and likes, forum software makes engaging in your community fun and rewarding. People who successfully answer questions earn points for doing so, and in some cases, may acquire greater permission levels as their score increases. For your company, the result is a more vibrant, engaged community.
Discover what customers and employees really want
Every company in the world wants to be customer and employee-centric. After all, knowing what your customers want helps you sell more and provide better service. And knowing what employees want enables you to find ideas to make them happier, more productive, and engaged. Feedback is certainly crucial to understanding customer needs, but interactions between your business and your customers don't tell the whole story.
On forum software, customers talk to each other about what works and what doesn't, which provides a distinct perspective. By facilitating genuine conversations about your company, product, and service, forum software creates a new, unique source of feedback for your organization to mine for insights.
Better service at lower cost
Online communities aren't just a scalable way to facilitate conversations among employees, customers, and your organizations. They're also a great way to support people when they have problems or questions. In addition to your support agents, an online community gives your users a new source of help: other users.
With community forum software, you can reduce ticket volumes by increasing ticket deflections, thus keeping support costs down. Plus a community forum can double as a de-facto knowledge base—with previous resolved posts in your community, questions answered once can be used forever for all who enter. In some cases, Google indexes the answers so others can view them, too.
What features should the best forum software offer?
Content moderation
Drumming up participation and engagement in your community forum will be your first challenge. But once you've got the momentum going, you'll need help from content moderators and content moderation tools to scale your community. So forum software that includes content moderation features is essential.
These capabilities should enable agents to track questions, bring in support agents when necessary, and remove rule-breaking users. You'll also want moderation tools that help you clean up your community forum. For instance, the ability to automatically remove duplicate threads and consolidate repeat questions will make it easier to stop your community from becoming overwhelmed with content.
Gamification
It might seem silly but gamification capabilities like reputation-scoring features can massively improve community engagement. Badges, advanced permission levels, and other rewards enable community members to feel as if they've achieved something. And for your organization, that means a greater incentive to contribute and answer questions in the community.
Without gamification features, your forum software will be missing a key ingredient in helping facilitate community growth. And while it may be possible to build a thriving community without gamification, it will require more resources and time. Plus, badges and user scores help people establish themselves as trusted resources, which helps other users feel as if they're getting an answer they can trust to work.
Help desk integrations
On its own, community engagement software is certainly powerful. But when it's connected to a help desk, your community can become a game-changer for your internal or external service department. An effective help desk integration means agents can view a customer's profile and have complete visibility into their online community activity when responding to their email or Facebook message. Service agents can also turn a community post into a ticket to continue the conversation when complex issues arise.
In short, integrated with your help desk, community software can supercharge the employee and customer experience.
How to choose the best forum software for your online community?
Fit for purpose
The best forum software for your online community depends on what you need to do. And while that might sound obvious, it's worth thinking about because of just how many different types of forums there are. While some forum software might cater to, for instance, entertainment sites that need a forum for fan discussions, others are better suited for employee or customer discussions.
All that said, you can also find forum software that you can use to create forums for employees and customers. Zendesk, for example, provides features for both internal and external forums.
Licensing, implementation, and maintenance costs
In any purchasing decision, cost matters. But often, software buyers are deceived about the true cost of their software. To make the best choice of forum software, you need to consider the whole cost, not just licensing fees. For instance, the best free forum software is available with no licensing costs but that doesn't mean it's free. Deploying and hosting open-source software may require outside help, which will come at an additional cost.
This means you need to consider what it might cost to implement and maintain the forum software you choose. Otherwise, you won't be able to make an apples-to-apples comparison between the solutions you're considering.
Time to value
Anytime you purchase software for your organization, it's a race against the clock to demonstrate that software's value. With forum software, the situation is not different. The more quickly you can get your forum up and running and your employees or customers engaged with it, the better your purchasing experience will be.
This is why it's critical to get into the details of implementation, maintenance, and customization before you commit long-term. So as you're going through the forum software research process, make sure you're asking questions about what's required to implement the type of capabilities you'll be looking for in your discussion board.
Frequently asked questions
How do you customize forum software?
The primary ways you customize forum software are with structure and design. But many forum software solutions enable you to customize with permissions settings, gamification, and even unique emojis. Of course, the way you customize a forum software will depend on the capabilities of the software itself.
How much does forum software cost?
Licensing costs for hosted forum software range from $15 to $500+ per month with most software licenses in the $15 to $150/month range. You can also get the best free forum software but even that can cost thousands of dollars to implement, so it's not technically "free."
Try online forum software for free
Zendesk forum software fosters engagement and deepens connections on a platform that companies can customize and brand as their own. Conversations thrive in community discussion software, where users can participate in feedback forums and engage with other fans of your business.
We have more information about this.
There are many ways to learn from and engage with your customers. Keep reading to find out more to forum software!