Blijf aan de lijn met een virtueel callcenter
Where ever they are, your agents and customers deserve the best virtual call center software
Wat is een virtueel callcenter?
Laatst gewijzigd 20 november 2023
Een virtueel callcenter is een klantenservicecenter waar de agents die supportoproepen beantwoorden zich niet op dezelfde locatie bevinden. Ze werken meestal vanuit verschillende locaties (ofwel thuis of op verschillende kantoorlocaties), maar zijn met elkaar verbonden via virtuele callcentersoftware. Virtuele callcenters zijn ideaal voor bedrijven die klanten in verschillende tijdzones willen ondersteunen en willen besparen op de overheadkosten van een centraal kantoor.
Zendesk is een virtuele callcenteroplossing die is ingebouwd in Zendesks ticketsysteem, waardoor serviceteams persoonlijkere, productievere telefonische support kunnen bieden binnen een omnichannel customer journey. Aangezien Zendesk een VoIP-technologie (Voice over Internet) is, kun je het snel configureren en is het gemakkelijk te beheren. En omdat het cloudgebaseerd is, kunnen agents Zendesk overal ter wereld gebruiken – ze hebben enkel een koptelefoon en een goede internetverbinding nodig.
Problemen met callcenteroplossingen
Het gebruik van callcenters om telefonische support te bieden, zowel uitgaand als inkomend, is niks nieuws. Er zijn echter altijd problemen geweest met deze aanpak (welke kan worden geïntegreerd met een virtueel contactcenter):
Onhandige kantooruren. Veel bedrijven hebben klanten over de hele wereld, maar veel van hen hebben niet overal een kantoor. Het resultaat is dat elk lokale callcenter slechts beperkte openingstijden kan bieden. Als klanten je bedrijf niet kunnen bereiken, is het lastig voor hen om hulp te krijgen.

Personeelsverloop. Het is belangrijk om je telefonische medewerkers enige flexibiliteit te bieden. Wanneer je je agents de mogelijkheid biedt om af en toe thuis te werken, kan dat de retentie verhogen. Dit helpt burn-outs te voorkomen, zorgt voor tevreden agents en leidt tot minder kosten voor het aannemen en opleiden van nieuwe medewerkers.
Een virtueel callcenter is de oplossing
Een virtueel callcenter runnen kan lastig zijn, maar hier zijn een paar tips om je virtueel contactcenter succesvol te beheren:
Bevorder de communicatie: Managers moeten zo veel mogelijk met hun team communiceren, het goede voorbeeld geven en iedereen op de hoogte houden van wat er speelt. Bied je externe medewerkers voortdurende support door af en toe in te checken en te controlleren dat ze in contact blijven met iedereen in het team.

Verbeter de zichtbaarheid: Focus op de prestaties van je medewerkers, zoek naar mogelijkheden om te coachen en vul de leemten in je trainingsprogramma, zodat je virtuele team als een goed geoliede machine kan blijven draaien. Ondersteun je team door relaties op te bouwen met andere afdelingen zoals sales en marketing.

Bouw relaties op: Zorg dat je team verbonden blijft door ze uit te nodigen voor klantenservicebijeenkomsten op kantoor, met mogelijkheden voor meeloopdagen, teambuilding, lunches of etentjes, meet-and-greets en happy hours.

Maak er wat leuks van: Beloon en erken je teamleden. Vier de werknemers die meer doen dan van hen verwacht wordt met een geschenkje of een ander teken van waardering voor hun harde werk.

Kies de juiste tools: In welke branche je ook actief bent, overweeg te investeren in tools waarmee je team beter kan samenwerken, zoals tablets, koptelefoons, telefoonupgrades, messagingtools en videoconferencing.
A comparison chart of the best virtual call center companies
Software
Starting price (/user/month)
Free trial
Key Features

Zendesk

$55

Unified agent workspace for all channels

Advance call routing & queuing

Real-time dashboards & reporting

Easy-to-use interface & powerful integrations

Immediately set up phone numbers, voicemail, and texts

Aircall

$30

API and 95+ integrations

IVR

Unlimited calling in the US & Canada

SMS support

Call queuing

CloudTalk

$25

Phone numbers for 140+ countries

ACD

Unlimited call queues

Call flow designer

TalkDesk

$75

No

Talkdesk Studio

Real-time dashboards

API access

Knowledge management

60+ out-of-the-box integrations

Virtual agent

Five9

N/A

No

Voice, email, social, SMS, and video support

Intelligent IVR and ACD

Workflow automation

NICE CXone

N/A

Resource planning tools

Automated call routing

Self-service knowledge base

Customer feedback surveys

Ameyo

N/A

No

Unified agent desktop

Call and screen recording

Call summary notes

Mass notifications

8x8

$125

Powerful Zendesk integration

Native CRM

Conferencing (video and audio)

Reporting and analytics

IVR

Call monitoring

Genesys

$75

Performance dashboards

Real-time and historical reporting

Inbound voice routing

IVR and web callback

Voicebots

Bright Pattern

N/A

Embedded AI

Customizable reporting dashboards

Customer journey history

ACD, IVR, and callback features

Full customer profiles
Top 10 virtual call center software
Embedded within Zendesk's industry-leading ticketing system is virtual call center software that is designed to facilitate a seamless customer experience. Regardless of the number and variety of service channels, Zendesk has a plan with the capacity to meet your needs. Even better, our packages are assembled to provide the capabilities necessary to help teams of any size resolve issues faster right out of the box.
Plus, since we (and you) are in this for the long haul, Zendesk comes equipped with the tracking and monitoring tools you need to optimize your operations over time.
A platform for your agents to thrive
The agent experience directly impacts the customer experience. When your agents have to frantically click through multiple tabs to take notes, log conversations, or access customer data, they can't focus on the customer in front of them. And their ability to quickly address issues suffers. But when agents can handle voice support in the same workspace as all other channels, and they have access to full customer context, they can quickly get to the crux of customers' most complex and urgent issues.
Quick time-to-value without sacrificing customizability
However you choose to deploy Zendesk, you can do so much faster than you can with any other platform without sacrificing extensibility. With Zendesk's ability to integrate with more than 90 telephony providers, you can easily plug in your preferred call center solution. Or you can use Zendesk as your standalone telephony provider. Either way you go, you can then build on your voice capabilities with additional tools and services such as advanced call transcription, redaction, and quality assurance capabilities.
Measure and improve your voice support
Your agents' conversations with your customers are a goldmine of information. Yet traditional call centers make this information difficult and costly to collect. Not so with Zendeskwhich is equipped with useful tracking tools like call recording, queue volume metrics, and real-time reporting.
Using these tools and others, your managers and agents can easily see what aspects of your call center operations are working well and where there's room for improvement. Plus, with call recordings, managers can sit down with agents and provide detailed feedback with real example scenarios to analyze. At a higher level, you can also use Zendesk's cross-channel reporting to compare voice performance against messaging, email, chat, and other conversational experiences.
Pricing Plans:
Suite Team: $55 user/month

Suite Growth: $89 user/month

Suite Professional: $115 user/month

Suite Enterprise: $169 user/month
Free trial: 14 days
Features of Zendesk Suite Team
Voicemail

Text messaging

group call routing

Display a number on web widget

Caller ID

Failover

Customized greeting

Automatic ticket creation

Mute, hold, and warm transfer

90+ telephony providers

APIs, SDKs, and integrations
Aircall is a popular virtual call center solution that claims to be as simple to set up as managing your email. E-commerce brands and software companies alike use Aircall to deploy basic call center capabilities like call routing and IVR as well as more advanced features like Power Dialing and CRM integrations. You can also use Aircall to craft automations, analyze call data, and integrate with your other tools.
A common theme in negative reviews about Aircall is the pace and efficiency of the onboarding process. Several G2 reviewers noted that Aircall support staff seemed "hands-off" and "slow". The more positive feedback centered around Aircall's ease of use and effective integrations.
Aircall's vertical call center plans all include unlimited inbound and outbound calling within the US and Canada. A 7-day free trial is available and their plans start at $30 per user/month.
Pricing Plans:
Essentials: $30 user/month

Professional: $50 user/month

Custom: Call for details
Free trial: 7 days
Features of Aircall Essentials
API and 95+ integrations

Call recording

IVR

Unlimited calling in the US and Canada

SMS

Click-to-dial

Call queuing
Learn more about Zendesk for Aircall.
Growing businesses need virtual call center software that can expand with them. In that respect, CloudTalk fits the bill with phone numbers for more than 140 countries throughout the world. Large, multinational logistics companies, car manufacturers, and retailers trust CloudTalk as their virtual call center software of choice.
CloudTalk includes all the basic and advanced features you'd expect and need from your software. Call queuing, call recording, extensions, SMS support, personalized greetings, and much more come standard in every plan.
CloudTalk plans range in price from $25 to $50 per user/month. Worth noting though is that if you need to enable outbound calling, you'll have to purchase a Custom plan which includes unlimited outbound calls billed at a flat rate.
Pricing Plans:
Starter: $25 user/month

Essential: $30 user/month

Expert: $50 user/month

Custom: Call for details
Free trial: 14 days
Features of Cloud Talk Starter Plan
Unlimited inbound and intracompany calls

Click to call

ACD

Mobile app

International numbers for 140+ countries

Unlimited call queues

Call recording

Call flow designer
Learn more about Zendesk for CloudTalk.
Although TalkDesk's website features many different products, the software is primarily a virtual call center solution. In addition to its core virtual call center functionality, TalkDesk includes a self-service portal, workforce management capabilities, employee collaboration tools, and robust CX analytics. Plus, the mobile app enables sales and service reps to make and receive calls from anywhere.
G2 reviewers give TalkDesk high ratings, with many customers highlighting the solution's easy-to-use interface, valuable reports, and simple implementation. However some customers have noted that the analytics and call recording in TalkDesk leaves something to be desired. Pricing for Talkdesk starts at $75 per user/month and tops out at $125 per user/month and there is no free trial.
Pricing Plans:
Essentials: $75 user/month

Elevate: $95 user/month

Elite: $125 user/month
Free trial: Not available
TalkDesk CX Cloud Essentials Plan Features
Talkdesk Studio

Real-time dashboards

API access

Knowledge management

60+ out-of-the-box integrations

Virtual agent
Learn more about Zendesk for Talkdesk
Restaurants, retailers, and professional service providers all use Five9 to power their call centers. The ability to manage customer relationships across voice, email, social, SMS, video, and more mean Five9's virtual call center software is worth considering for brands with many different service channels.
Seamlessly stitching your call center software to the rest of your customer experience can mean the difference between good and great customer service. Plus, Five9 offers other phone solutions if you need to expand internally or externally. While pricing is not available for Five9's packages, you can expect no-fee long-distance calling on all their packages.
Pricing not available
Free trial: Not available
Features
Omnichannel ticket routing

IVR

ACD

Real-time and historical dashboards

Predictive dialing

Intelligent virtual assistant

Outbound dialer

Call recording

Web call back

Workflow automation
Learn more about Zendesk for Five9.
Our research in 2022 showed that 61 percent of customers do not give a company a second chance when their service doesn't meet their expectations. So it's disconcerting to see many G2 reviewers noting how NICE CXone tends to crash when the volume is high. However, when NICE CXone is functional, its capabilities are powerful.
NICE CXone features quality management and resource planning tools along with call center analytics, business VOIP, and automated call routing. Large, sophisticated organizations like Visa, American Airlines, UnionBank, AAA, and more trust their call center software to NICE CXone.
Unfortunately, NICE doesn't publish its pricing. You'll have to make contact with the company to get information about licensing and implementation costs.
Pricing not available
Free trial: 60 days
Features
Workforce management

Live chat

Reporting

Native integrations

Self-service knowledge base

Workforce management tools

Customer feedback surveys

Live chat software
Learn more about NICE inContact CXone Agent for Zendesk.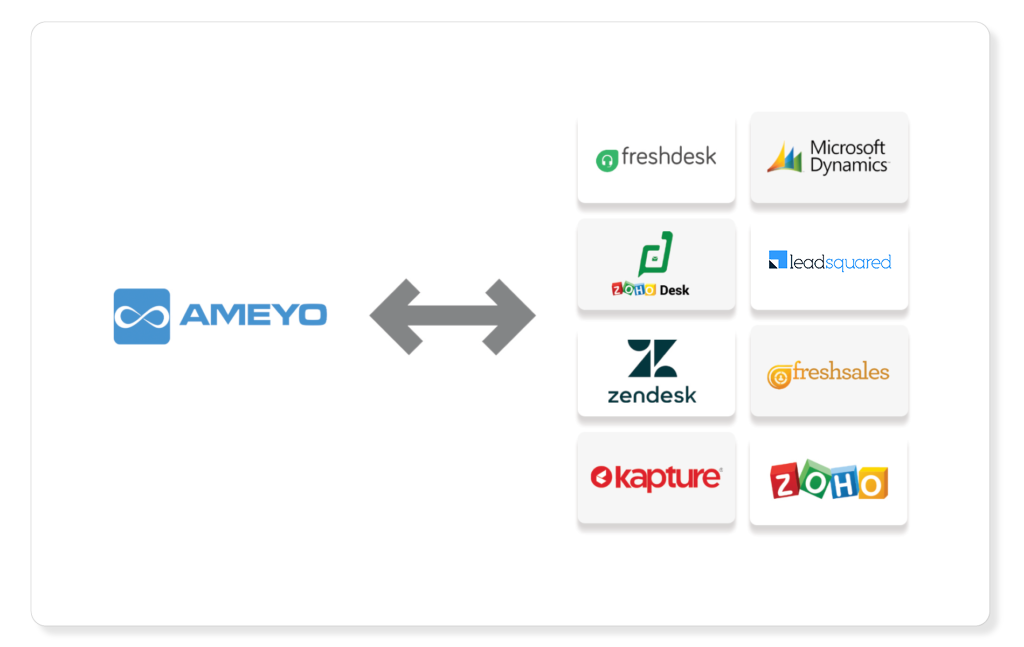 Trusted by more than 1600 customers spread throughout 40 countries, Ameyo is a worthy contender in the virtual call center software space. In addition to its virtual call center software, Ameyo also provides inbound and outbound call center, cloud contact center, and conversational AI solutions.
Its virtual software includes all the basic and advanced features you need to improve customer engagement, whether that's through inbound or outbound calling. Notable features include call disposition, voice blasts, a preview dialer, and intelligent call routing with IVR and ACD. On the agent experience side, Ameyo is set up as a unified agent desktop so agents can handle tickets across channels in one consolidated dashboard.
Ameyo does not publish pricing information. To get more information about pricing, you'll need to book a demo through the Ameyo website.
Pricing not available
Free trial: Not available
Features
Predictive dialer

On-call options (hold, mute, transfer, etc.)

Call summary notes

Mass notifications

Number masking

CRM integrations

Call and screen recording

Call center analytics

ACD

IVR
Learn more about Ameyo for Zendesk.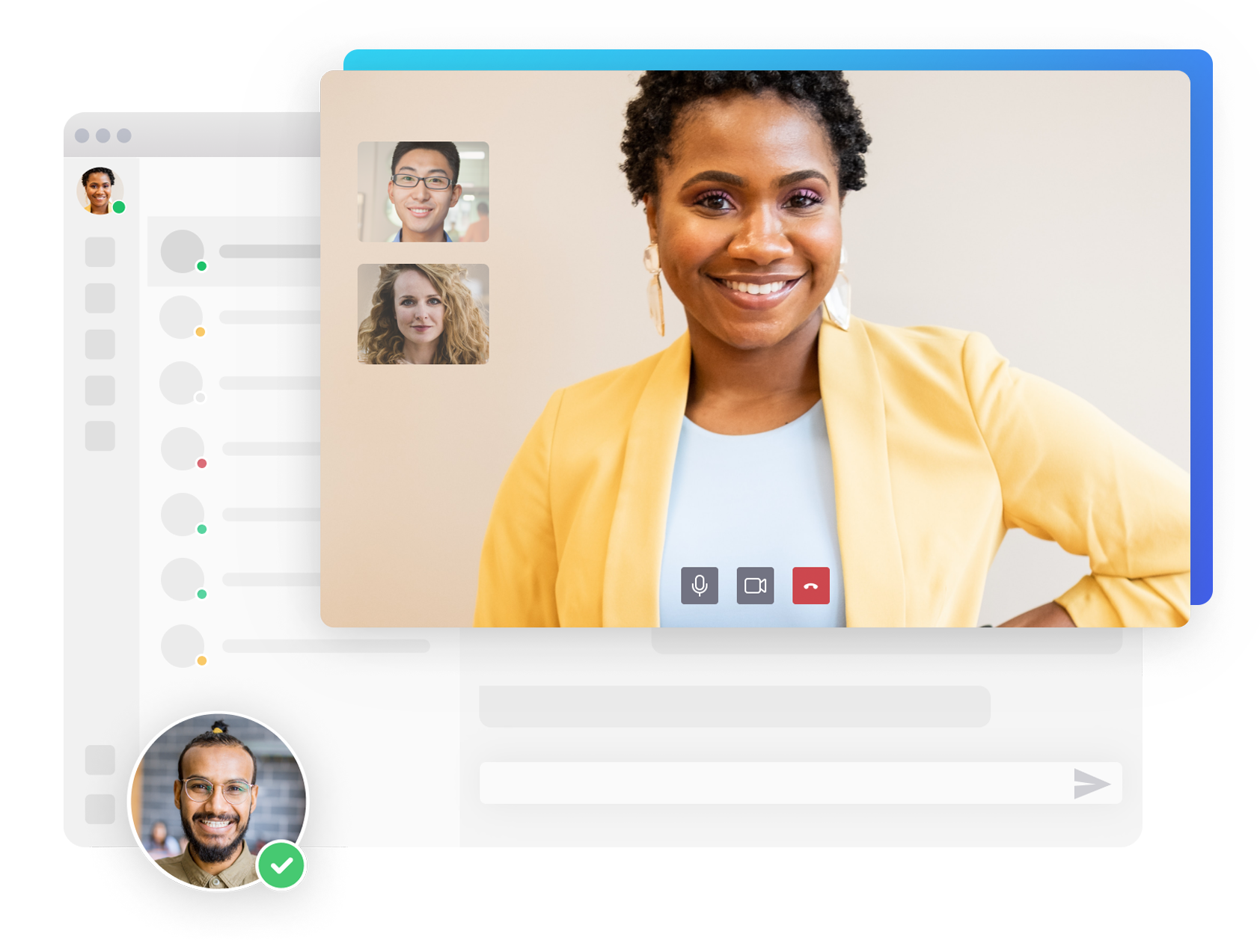 Many Zendesk customers use the 8x8 virtual contact center in combination with Zendesk to serve their customers more efficiently. Yet even on its own, 8x8 is a solution worth considering due to its powerful call handling capabilities, comprehensive configuration management, and seamless interface whether you're using the software on a desk phone, desktop, or mobile device.
But 8x8 doesn't just focus on call handling. The software also includes a suite of workforce engagement management tools including call volume forecasting, customer surveys, call recording, and real-time performance dashboards. If you opt for 8x8's solution, you'll have your choice between three plans ranging in price from $125 to $175 per user/month. You can save 25% on those monthly costs if you sign up for a yearly subscription.
Pricing
Contact center X6: $125 per user/month

Contact center X7: $138 per user/month

Contact center X8: $175 per user/month
Free trial: 30 days
Features of Contact Center X6
CRM

Conferencing (video and audio)

Reporting and analytics

Skills-based routing

Call recording

IVR

Call monitoring
Learn more about Zendesk for 8x8.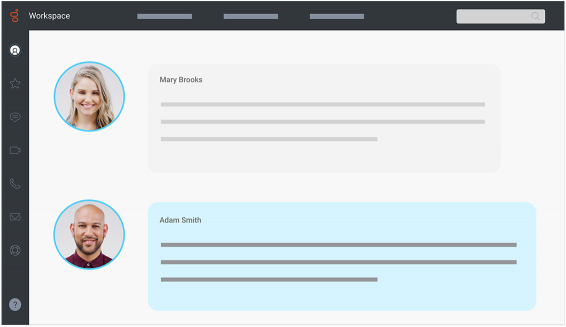 As part of their suite of contact center solutions, Genesys provides virtual call center software aimed at simplifying customer experiences across all channels. Genesys bills its software as a means to communicate quickly and seamlessly not just over the phone, but also through social media, your website, and live chat.
Genesys is capable of handling inbound and outbound calling and comes equipped with basic technologies like IVR and ACD for call routing. You can buy Genesys licenses in two ways, either with one of their three packages or with a custom software package. Their packages range from $75 to $150 per month and require a minimum commitment of $2000 per month.
Pricing
Genesys Cloud CX 1: $75 per user/month

Genesys Cloud CX 2: $110 per user/month

Genesys Cloud CX 3: $150 per user/month
Free trial: 30 days
Features Genesys Cloud CX 1 Plan
Performance dashboards

Real-time and historical reporting

Inbound voice routing

IVR and web callback

Voicebots
Learn more about Zendesk for Genesys.
Featuring an impressive balance of sophistication and ease-of-use, Bright Pattern helps virtual call center agents leverage the power of embedded AI to ensure high-quality customer experiences. Bright Pattern also comes with a plethora of popular CRM integrations including connections with Zendesk, Salesforce, Oracle Service Cloud, and ServiceNow.
G2 reviews on Bright Pattern are overwhelmingly positive and the few negative reviews seem relatively minor. The main positive feedback is that Bright Pattern's service is quick and accurate, rarely goes down, and has strong out-of-the-box functionality. Pricing for Bright Pattern is not publicly available but they offer three packages which you can request a quote on their website.
Pricing not available
Free trial: 30 days
Features
Inbound Voice Calls

Outbound Voice Calls

ACD

IVR

Callback

Personal Routing

Journey History

Customer Profile

Surveys

Reporting and Customizable Dashboards

Knowledge Base

API Access

Call Recording (90 Days)

Screen Recording (30 Days)
Learn more about Zendesk for Bright Pattern.
What are the essential features of a virtual call center software?
Call routing options
Much of the value of your virtual call center will come down to how efficiently calls are routed. So having plenty of smart call routing options is key. Generally, two key features determine how your call can be routed—automatic call distribution (ACD) and interactive voice response (IVR).
IVR is the system that collects customer information by asking pre-recorded questions. Once customer info is collected, ACD kicks in. Based on the customer's answers to the pre-recorded questions ACD routes calls based on preset rules.
These preset rules might be configured so customers are directed to the agent with the right skillset to serve them—this is called skills-based routing. Other common forms of routing include:
Round robin routing: calls are evenly distributed among agents.

Time-based routing: calls are distributed based on the agent's business hours.

Called ID routing: pushes VIP callers to the head of the line.

Predictive routing: AI-based routing that uses data to inform routing decisions.
Inbound and outbound calling
A call center isn't much good to you if it can't make the kinds of calls you need. Fortunately, every virtual call center solution has either inbound or outbound calling, and many have both. But you want to make sure the software and package you're considering has the calling functionality you require. Oftentimes, if outbound and inbound calling aren't both included, you can add the calling capabilities you need as an add-on.
Call center training tools
In our latest research, 68 percent of customers indicated that it feels like most businesses need to improve their service agents' training. And only 20% of agents feel extremely satisfied with the quality of their training.
That's why in a modern virtual call center, tools like call monitoring, call recording, and call whispering are more important than ever. Call monitoring enables agents' managers to get a firsthand look at what's going on and how their employees can improve. And call recording allows individual agents to look back on how things went and think about how they can improve.
Call whispering is also invaluable because it allows managers to coach their agents in real-time. Taken together, these three tools facilitate a more efficient and effective training process for agents and their managers.
What are the benefits of using a virtual call center service?
Improved employee experience
Virtual call center services provide the tech you need to allow service agents and their managers the flexibility to work remotely. And with the competition for competent service agents as hot as it's ever been, workplace flexibility is a critical recruiting tool.
In fact, a PwC study in the US shows that 55% of workers want to work remotely for most of the week. And another study in the UK indicated that 51% of employees value job flexibility more highly than salary when making job choices.
So even if you don't plan on going fully remote, virtual call center software enables invaluable flexibility.
Greater call center efficiency
Before the rise and proliferation of cloud-based tools like virtual call center software, outsourced, traditional call centers were the low-cost option. But outsourcing comes with its own costs. Foremost is the lack of quality control companies have when they outsource their call center function to a third party. But virtual call centers make it possible to control costs without giving up so much control of the customer experience.
Virtual call centers are more affordable than traditional call centers because they:
Widen your hiring pool geographically to lower-cost markets.

Lower the overhead associated with maintaining a traditional call center.

Attract candidates at lower salaries

Make training more efficient and less costly

Reduce agent attrition
Seamless connectivity with other cloud-based tools
Compared to traditional call center software, virtual call center services are far easier to connect to your other cloud-based tools. Most virtual call center solutions have pre-built integrations with popular CRMs, helpdesks, analytics tools, ticket management solutions, and much more. These integrations help enhance both the agent and customer experience, making your virtual call center solution that much more powerful.
Of course, not all vendors have taken the same care in building effective, intuitive integrations. For example, you will find more than one thousand pre-built integrations for Zendesk's virtual call center while Aircall only has about one hundred as of this writing.
How to choose the best virtual call center solution for your business?
If you're selecting a virtual call center solution for your business, you have many options—which is both a blessing and a curse. We recommend focusing your selection process on the following three areas:
Quality of fit with current team
For any software to be useful to your organization, it has to become an extension of your team, both in the current moment and the future. That means prioritizing solutions that can be configured around your current processes, rather than the other way around. But it's not enough to just consider your current team's constraints.
Both your team and your business will change over time, and that's where the flexibility of your virtual call center becomes very important. After all, even the tools that are best for you today quickly become expensive if you have to switch from them once you grow, change your team organization, or pivot your business.
Expected return on investment
When you're considering a solution, you can't know exactly how it will impact your operations. But that shouldn't stop you from making some ROI projections. To do this, decide on one or more areas where you're aiming to generate income via improved customer service. Typically, customer service generates income through upgrades on existing accounts, retaining accounts longer, and/or expanding via referrals. If you can pin down how new software might impact one of these revenue streams, you can start to calculate the ROI.
You can also evaluate how a given solution will lower costs through, for example, reduced headcount or improved employee retention. However you decide to calculate ROI, your projections can help contextualize the cost of each solution.
Speed and efficiency of deployment
If you've ever purchased a major software product in a corporate setting, you know that it's not enough for your team to see the potential value. Executives and other stakeholders also need to see the value. Otherwise funding and buy-in can quickly dry up. That's why it's so important to consider how long it will take for the virtual call center solution you choose to start creating tangible value. The sooner you can show the effectiveness of the tool, the easier it will be to integrate it within your organization.
Frequently asked questions
Een stap in de juiste richting
Zendesk Voice is een callcentersoftware die bedrijven een virtuele callcenteroplossing biedt. Voice is geïntegreerd in Zendesks ticketsysteem en geeft supportteams een meer persoonlijke, proactieve manier om telefonische support te bieden. Aangezien Zendesk een VoIP-technologie (Voice over Internet) is, kun je het snel configureren en is het eenvoudig in beheer. En omdat het cloudgebaseerd is, kunnen agents het overal ter wereld gebruiken – ze hebben enkel een koptelefoon en een internetverbinding nodig. Talk helpt teams die op zoek zijn naar een virtuele callcenteroplossing om problemen sneller op te lossen, hun telefonische supportactiviteiten te meten en te verbeteren, en eersteklas klantervaringen te leveren.
We hebben nog meer interessants
Telefonische support bieden is een vak apart. Leer hoe je het goed aanpakt aan de hand van deze relevante blogposts en hulpartikelen.