Unlock the power of interactive messages
Rich, interactive messaging components are only natively available to send in Zendesk Messaging when an end-user is interacting with a bot in a pre-defined flow. Unfortunately once the user is connected to an agent this powerful ability is lost entirely!
This app enables the creation and management of 'Messaging Templates' that unlock the ability for agents to harness the power of these tools in messaging conversations at the press of a button
This app will require you to have an active Sunshine Conversations license (included in Suite Professional plans and above). If you would like to learn more about purchasing a Sunshine Conversations license, then please speak to your Zendesk representative who will be happy to help.
A template says a thousand words
Flexible template options include:
Carousel - display up to 10 items, each consisting of an image, content (title and description) and a button link - displayed in a horizontally scrollable element.
Image - display an image or gif above a message and up to 10 clickable button links.
Quick Replies - a message with up to 10 clickable quick-reply buttons that enable the end-user to quickly communicate back to the agent from a set of pre-defined answers.
Link list - a message and up to 10 clickable button links.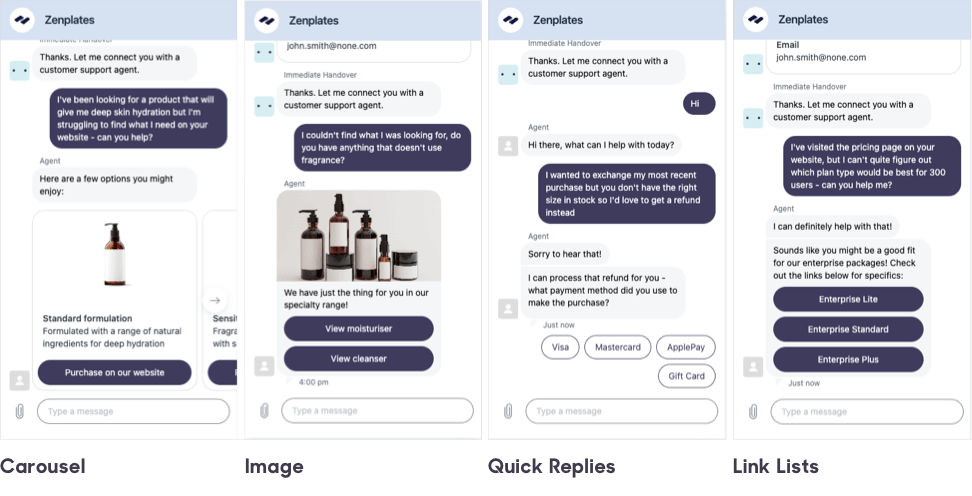 Supercharge your CX
Increase conversions by using templates as a visual sales tool - easily highlight a item using an interactive image template, or display a range of promoted items in a carousel - the options are endless!
Elevate your customer experience through interactive and visually pleasing media types
Save end-users and agents time through templated responses and quick replies.
Feature rich - but you get the message!
Create and manage 'Messaging Templates' via the Admin Panel.
View available templates direclty on the ticket, with filtering capability built-in to help find the perfect template quickly.
Preview a template to ensure you know exactly what the end-user will see - no surprises!
Apply a template at the press of a button.
Keep the context of the conversation - a plain-text description of the template is embedded directly in the comment thread (only visible in the agent interface) so anyone looking at the ticket knows exactly what was sent.
Who can use this app?
Note: Messaging templates for Facebook Messenger and Instagram are not supported in Agent Workspace at this time. Other social channels supported by Sunshine Conversations are supported.
Want to know more?
Zenplates is a leading Zendesk partner specializing in apps for Zendesk Support and ready-to-use themes for Zendesk Guide.
As Zendesk experts, we also offer a range of other services including optimization, data migration and general consulting for the Zendesk Suite. For more information, please contact us via our website - we'd love to hear your feedback or suggestions!