Magento 2 support for Zendesk
agnoStack™ Magento 2 Support is THE leading Magento 2/Adobe Commerce integration app for Zendesk. The only true enterprise integration for Adobe Commerce - rated one of the Top Zendesk Apps!
No more shuffling between apps. agnoStack™ now makes it possible to Search, Modify and Create Orders and Access Real-time Commerce, Shipping and Payment Data directly inside Zendesk. NOW includes AI for Commerce making AI so simple it feels like magic!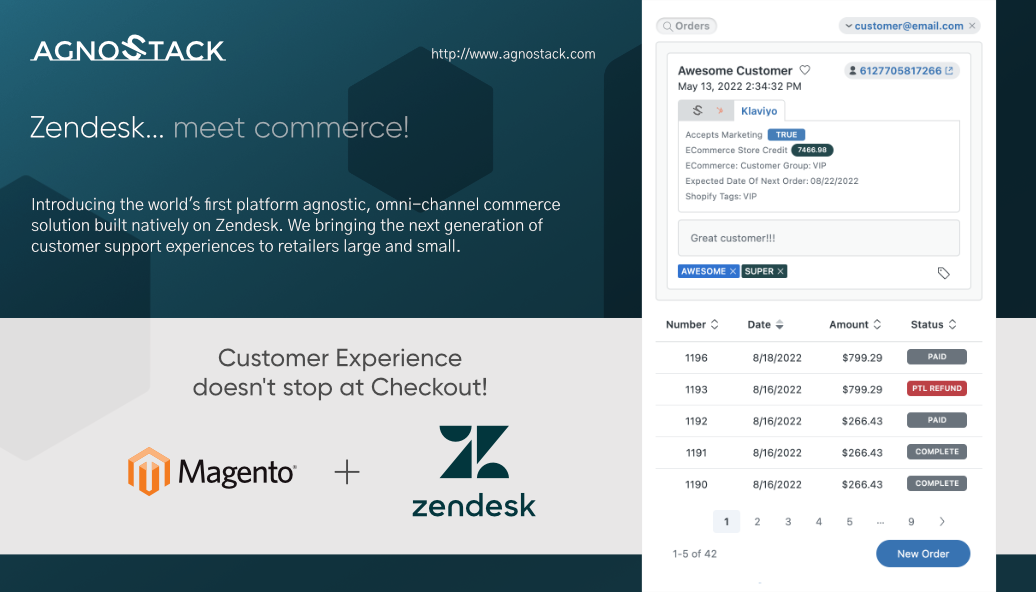 For step-by-step instructions on how to configure the application, please see our Onboarding FAQs.
CORE FEATURES
Magento 2 by agnoStack™_ is the powerhouse app retailers have been waiting for, loaded with industry-leading tools to turn your customer service team into SuperAgents.
Order basics/details*
Get basic order details as well as line items, real-time shipping updates, and payment transactions. No more bouncing between apps to find what you need.
Order search/filter/sort/lookup*
Your agents can perform lightning fast, real-time searching, sorting and filtering to rapidly locate exactly what your Customer needs support with.
Pin ticket order*
Agents can pin an Order to a Ticket to ensure details are immediately available when it is moved between agents or is re-opened.
Refunds Processing*
Allow agents to process full, item-level and partial refunds (depending on platform).
Order Timeline*
Access a single, chronological view of an Order, bringing in a variety of useful details about an order's history and purchase lifecycle directly into Zendesk.
Advanced Macros*
Quickly build re-usable replies containing real-time data from your commerce, shipping and payment platforms.
Customer Insights*
Surface additional data from third-party marketing automation platforms directly inside of our Order and Customer Detail screens.
\ * Denotes Paid Features. Detailed pricing and tiers can be found at agnostack.com/pricing.
---
Customers always first, including ours
If something is broken, you're missing a feature or think something could be improved, contact us any time at support@agnostack.com. We're here for you.
Always Optimizing
We've got a laundry list of features on our roadmap and look forward to continuing to improve your support experience as we grow!
We will continue to add additional eCommerce platforms (ex. Salesforce Commerce Cloud) in coming months.
---
Learn More
Learn more about agnoStack™ at agnostack.com. See all of our eCommerce apps.
Give us 30 minutes and we'll blow your business' mind. Schedule a demo today.

"agnoStack™ Omni-Channel Commerce" now available for: Shopify, BigCommerce, commercetools, Magento 2/Adobe Commerce Cloud, Magento 1, Elastic Path, and WooCommerce at: agnoStack Omni-Channel Commerce!