Grow revenues with fast, easy to use configure, price and quote system.
MobileForce CPQ for Zendesk Sell Quick Start Video
Click on the image below to play the video.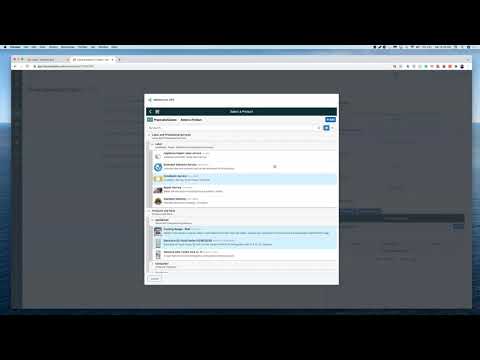 Pricing
Free Trial, then USD $30/user/month (CPQ Professional Support Edition) or USD $65/user/month (CPQ Enterprise Support Edition)
Have questions? Please contact sales@mobileforcesoftware.com to setup a time to talk to one of our CPQ Specialists.
Features
Easiest CPQ App to Setup and Use With Your Zendesk Sell
Transform cumbersome paper and spreadsheets quotes to a quick and easy online configure, price, and quote process. Start from a Zendesk Sell Deal, pick a contact, add products and services line items, discounts and generate slick proposals in minutes.
Intelligent Quoting & Proposal Engine
Easily create customized quotes and proposals for each sales scenario.
Smart wizard instantly auto-populates quotes based on customer or project similarity including discounts and promotions.
Product or Service Quotes
In addition to products or parts, quickly add maintenance or repair service line items for your installed products in the field to generate an integrated quote or proposal. Automatically load all the relevant information about the customer and deal from the CRM.
Flexible Upsell/Cross-sell Workflows
Prompts the user to add relevant features, products, and services in real-time. Supports configurable and bundled products. Recommendation and validation engine ensures correct products and services are added.
Automatic Proposal Document Generation
Sales and Service personnel can easily generate a single page quote covering multiple products and services, or a multi-page proposal with attachments. Configurable document templates with custom branding and marketing elements can be uploaded to be selectively used in proposal generation.
Product, Pricing, and Approval Rules
Product and pricing dependency rules guarantee the validity of quotes. Configurable approval rules for automatically approving certain discounts or routing the quote to appropriate individuals for approval.
Zendesk Sell and Optional Back Office Integration
Automatically fetch company, deal, contact, information from CRM, and optionally, inventory, delivery estimates from back-office systems like ERP in real-time while quoting. Generated quotes and proposals are automatically sent to the customer and seamlessly saved into Zendesk Sell. Also, integrates with DocuSign and PandaDoc.
Please submit bug reports to support@mobileforcesoftware.com.